Blissy Silk Pillowcases are handmade and crafted from high quality 22-Momme 100% Pure Mulberry Silk.  We have spent countless hours prototyping, testing and using our products to ensure the highest quality and durability.  
A completely natural and hypoallergenic silk pillowcase designed by our team of experts that does wonders for your hair, skin and overall health while you sleep, what could be better?
Customer Reviews
Write a Review
Ask a Question
06/30/2020
Ann R.
United States
RED!!
Easy to order. Prompt receipt. Luxurious feel and a high quality product. Very happy with my RED satin pillowcases! Blissy rocks!
06/23/2020
Jane W.
United States
Treat for sleeping!!!
I have enjoyed this new pillowcase. I have the white one also. This red one seems very feminine. Sleeps wonderful
06/10/2020
Nilka K.
United States
Sleep blissy
Absolutely love this pillow case
06/07/2020
Celia E.
United States
Blissy Heaven
I can't say enough about the Blissy pillowcases. Pure creamy cool softness! No more bed head and a smoother competition!! Thanks Blissy!
05/27/2020
Kathy K.
United States
Love y Red Blissy
I absolutely love it. My hair looks great and I sleep so well and wake up with. No lines or creases. This is a luxury that I will onto us to add to...I will never sleep without my Blissy!
05/27/2020
Lauri B.
United States
Great pillowcase
This has been the best case I have ever used
05/15/2020
Susan L.
United States
Beautiful red silk pillow case
Love the red pillow case. It keeps my head cool at night.
05/13/2020
BJ S.
United States
RED IS SO AWESOME!!!
ARE YOU KIDDING ME!! ANY EXPERIENCE WITH BLISSY HAS ALWAYS BEEN NOTHING LESS THAN AWESOME. THIS TIME I WENT FOR RED. EVERYONE NEEDS AT LEAST ONE RED BLISSY. I GOT 2 AND THEY ARE BOTH FOR ME. BETWEEN MY HUSBAND AND OUR TWO FUR BABIES-I JUST WON'T SHARE. THEY ALL HAVE THEIR OWN BLISSY'S. NOT RED ONES BUT THEY ALL HAVE THEM!!! LET ME ASK YOU BLISSY-HOW MANY PEOPLE ORDER THEM FOR THE DOGS. SURELY WE AREN'T THE ONLY ONES.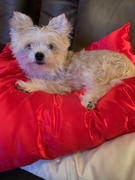 05/05/2020
Gloria M.
United States
Love Blissy!
Ordered my second Blissy & loving it. It's well made and luxuriest. Very satisfied with my purchase.
04/22/2020
Judith B.
United Kingdom
Bliss red standard pillowcase
Well I have two in white which I love! Unfortunately with Coronavirus I haven't yet received my red ones yet but I'm sure I'll love them too. Well worth the money!