Blissy Silk Pillowcases are handmade and crafted from high quality 22-Momme 100% Pure Mulberry Silk.  We have spent countless hours prototyping, testing and using our products to ensure the highest quality and durability.  
A completely natural and hypoallergenic silk pillowcase designed by our team of experts that does wonders for your hair, skin and overall health while you sleep, what could be better?
Customer Reviews
Write a Review
Ask a Question
12/18/2019
Karen B.
United States
Didn't Believe It Until I Tried It
I've only been sleeping using the Blissy pillowcase for about two weeks, so the verdict is still out on my skin clearing up, but I love what it's done for my hair. I can go an extra day without washing it and there is no bedhead. It says cooler than a plan pillowcase as well. I am excited to see if it helps clear my skin!!!
10/11/2020
Christine-Ann J.
United Kingdom
Absolute Bliss(y)
Having now bought 3 x 2 super king pillowcases (different colours), I can only HIGHLY recommend. Stunningly comfortable and easy to wash
10/08/2020
Kimberly R.
United States
Pillowcase
Packaging was very nice and the pillowcase in it is totally awesome!!
10/05/2020
Elmo G.
United States
Better hair days
Bought it for my better half and I made a hit. She just loves the feel. She can say enough about how it has helped doing her hair in the morning
10/01/2020
Carla P.
United States
Love
Great pillow case. Nicely packaged. Affordable luxury!
09/30/2020
Misty D.
United States
You will not return these !!
No more bed head. No more unexplained acne on neck and cheeks!! These are luxury
09/30/2020
Deanna C.
United States
09/28/2020
kerry h.
United States
Amazing purchase
I am in love with my Blissy pillowcase. It has changed how I sleep. It is the most comfortable pillowcase and am so happy I bought one. So soft on my face and stays cool all night. The gold color looks awesome too!
09/25/2020
Trina S.
United States
I love it!
I love using this pillowcase. My experiences and awesome. I do have a white one and I've accidentally left it at hotels before because it's white so it blends in with their pillowcases and I don't think about it when I'm packing up to leave until after I'm already gone. So this time I ordered a gold one and this will be my travel pillow case so that I will always see it & remember to take it off of the pillow at a hotel and bring it home with me!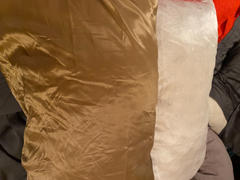 09/24/2020
Kim L.
United States
Luxery
I enjoy my new pillowcase so much! It feels so luxurious and I feel like I'm at afive star resort every night. I love it so much I ordered my husband one.