Blissy Silk Scrunchies are made from the same high quality pure silk as our popular pillowcases.  Perfect for your hair, they come in a 3-pack of colors (Gold, Pink and Black).  
No frizz, no tugging, no damage.....just pure silky smoothness.
Customer Reviews
Write a Review
Ask a Question
01/01/2020
Thomas K.
United States
Wife in Bliss!
She has long curly hair and loves the Blissy scrunchies. They don't pull her hair out like other materials do. She also loves the pillowcase. She has been recommending your products to all of her friends. As she is a "center of influence" person, you should be noticing an increase in sales! - TK
09/02/2020
Annette Q.
United States
Scrunchies
I really the scrunchies. It is so soft and feels really silky . It doesn't pull on your hair like the others. I would recommend this product to my friends and family.
09/02/2020
Susan R.
United States
Scrunchies
I love Blissy's scrunchies. There isn't any pulling, or tugging when taking them off. They slide off gently. No more pulling out strands of hair.
08/31/2020
Terra C.
Canada
Love these scrunchies
Love that they feel good and are good for my hair. No splits, no knots, just smooth putting on and taking off.
08/27/2020
Bozena A.
United States
Scrunchies
I do not have the issue of having my hair broken and tangled as with other hair scrunchies.
08/25/2020
Elaine L.
United States
Hair love
Beautiful and luxurious while gentle on the hair.
08/24/2020
Linda H.
United States
GREATEST
I love these scrunchies. Noticed right away that no hair was there when I took it out! Awesome!
08/21/2020
Laura P.
United States
Amazing Result on my hair
Great! I noticed a difference immediately that my hair has gotten shinier, softer and less frizzy overnight! I want a second pillow case!
08/18/2020
Catherine C.
Canada
Great Hold, Great Looking Scrunchies
The well made, silky smooth scrunchies had me a little sceptical, until I tried them in my thick straight hair. They didn't slip, nor break my hair, and were very comfortable! I loved the 3 rich colours (gold, rose, black) and the generous amount of material used to create the perfect scrunchie! Would highly recommend this product to anyone who is on the hunt for high quality hair accessories.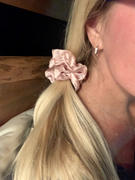 08/16/2020
Kay M.
United States
SILKY SCRUNCHIES
I love my new Blissy Schrunchies! These scrunchies hold your hair firmly while looking pretty and stylish. When it's time to remove them, they release gently without pulling out any hair. I love the gold and black ones and my granddaughter quickly grabbed the pink one for herself!