For every mask sold, we will donate one mask
Blissy Silk Face Masks are handmade and crafted from high quality 100% Pure Mulberry Silk.
They are adjustable, machine washable and breathable.
Due to the current face mask requirements in place now, and since it most likely will be in place for sometime, this is an excellent alternative to normal cloth and DIY face masks. Because these are silk, they are extremely gentle on your face while helping to protect others in case you're sick.
Plus, they look great! They come in a Silver, Pink, Black and Tie-Dye colors.
Disclaimer: This mask will provide the same protection that a DIY cloth face mask can provide.
Customer Reviews
Write a Review
Ask a Question
08/26/2020
Marisha B.
United States
If I have to cover my face..why not do it with silk
The process of ordering was super easy. My product even arrived early. I so glad I bought this instead of one of those neoprene with the little vent. Those are now banded at the hospital I work at. After. while I actually forget that I'm wearing it. I hand wash it with antibacterial soap at night and it's dry and ready to go by morning. It definitely feels the best against my skin.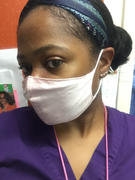 07/29/2020
Linda F.
Canada
The softest gentlest lightest mask you'll ever find! It's perfect!
I absolutely love my Blissy mulberry silk face mask! I have tried many kinds of masks and all have caused problems with my sensitive skin but not this silk one! It feels as soft cool and light as a breeze! I can wear it alone or as a cover for a paper or thin cotton mask. There is plenty of room. The ear loops are soft non- irritating and adjustable. It's perfect!
07/29/2020
Michelle B.
United States
Really comfortable for people with rosacea or senstive skin
I have rosacea and basically the world's most sensitive skin. Wearing cotton or paper masks was really unpleasant, and I was left with redness and swelling afterward that could last for a couple of days. (As a bonus, that redness and swelling was also in the shape of the mask that I wore. Super cute as you could imagine). My Mom came up with the idea of a silk face mask because I love my silk pillowcase. Well, I have to say silk solves all my problems. These masks are very comfortable to wear on my sensitive skin. And, they are light and breathable in the very hot and humid weather we have been having here. I also like these ear loops - they are adjustable and made from a very comfortable material. I hand wash these in lukewarm water with Johnson's Baby Shampoo and then hang to dry. That method works great. I highly recommend these masks for anyone with skin sensitivity like me.
07/04/2020
Julie K.
United States
So much nicer than all the cotton/poly masks!
I ordered a few of these once I realized mask requirements aren't going away any time soon. I don't have any political issues about mask requirements, I just find them physically suffocating, like I'm ripping them off gasping for breath the second I leave a shop. These silk masks from Blissy are about a million times better to breathe through and if it has anti-aging effects on my skin all the better :-) They also look much classier than your average mask...I get compliments/inquiries all the time.
08/30/2020
Christine B.
United States
Love love it!!!
It is so excellent !! it feels so good!! Other masks dry you out and you look awful or older after you wear them ... this one seems to make look better… So I don't want to take it off LOL
08/30/2020
Tracie H.
United States
Amazing quality mask
Perfect fabric for the face because it won't irritate the skin! Love mine and gave the other as a gift!
08/29/2020
Amber S.
United States
08/29/2020
Vicki K.
United States
Softest face covering
I felt safe in my blissy mask. My face was not irritated from the mask and it wasn't bad looking either. I ordered 2 more. It's adjustable so it fits well and it's so soft on my face. I can't believe what a huge difference it is in the way it feels vs any other non medical face covering.
08/28/2020
Angela B.
United States
Easy to breathe
Soft beautiful and love the ear adjustments
08/28/2020
Paula C.
United States
Silky
Light, silky smooth on skin, easily adjusted to fit, washes well, dries quickly.