Blissy Silk Pillowcases are handmade and crafted from high quality 22-Momme 100% Pure Mulberry Silk.  We have spent countless hours prototyping, testing and using our products to ensure the highest quality and durability.  
A completely natural and hypoallergenic silk pillowcase designed by our team of experts that does wonders for your hair, skin and overall health while you sleep, what could be better?
Customer Reviews
Write a Review
Ask a Question
09/15/2020
Kate K.
Canada
Great pillow
I love it it's help me with my hair
09/09/2020
Maria D.
United States
Best pillow case I've ever had
This is not my first Blissy pillow cases and I've really been collecting all colors because I love the feel of silk on my skin all the time. It makes me sleep better. The deep red is especially spectacular. I highly recommend Blissy. You should get yours too! I assure you you won't be disappointed!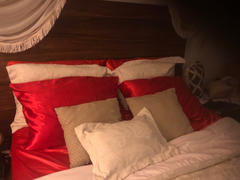 09/02/2020
Chelsea M.
United States
Amazing
Amazing is all I have to say! Love.
09/01/2020
Ronald H.
United States
great pillowcase
Definitely helped me sleep better, felt luxurious against my skin
07/29/2020
La V.
United States
Hot chili.
Gorgeous chili pepper red color.Cool and smooth to the touch.
07/21/2020
Julie S.
United States
RED HOT‼️❣️
AWESOME ‼️ GREAT PRODUCT ❤️
07/17/2020
Sue D.
United States
Sateen Pillowcase
I love it. Keeps you cool at night,soft on your face and leaves your hair without knots. What more could you ask for. Thank you Blissy for a spectacular item
07/09/2020
Elizabeth C.
United States
Heavenly
Love love love my new silk blissy pillowcase
07/05/2020
Margo C.
United States
Beautiful
Feels great. Took me back to my youth A memory and a feeling of joy. Hair and skin happy too.