Blissy Silk Sleep Masks are beautifully designed and a must-have beauty sleep essential.  Handmade, crafted from silk, and gentle on your skin, these Sleep Masks are the perfect compliment to your beauty routine.
Rest like you never have before with Blissy.  Includes Bilssy silk carrying case for traveling.
Customer Reviews
Write a Review
Ask a Question
06/25/2020
Shelley M.
Canada
Best ever!
I wasn't sure if I would use the sleep mask but I have been wearing it every night since receiving my order! Love it!
06/18/2020
Kathy W.
United States
Sleep Mask
Very soft & comfy
06/17/2020
Arathi A.
United States
Love my mask and pillow !
Absolutely love the feel of the mask and the quality .
06/11/2020
Angella D.
Canada
Blissy is remarkable
Good for blackouts and very soft on the skin. This is my second eye mask. I have one in black as well
06/10/2020
Ashley B.
United States
Best sleep mask EVER!
This sleep mask not only keeps the skin around my eyes fresh, supple and prevents sleep lines but it also blocks out the light from my neighbors house. I like to sleep with my windows open (in Hawai'i it's nice year 'round and the fresh air and breeze feels so good) but for the fact my neighbor refuses to turn off her outside lights. This mask blocks out light and keeps me looking young! I got one for my husband too because if I didn't he would steal mine. We both LOVE our new Blissy masks!! Get it! You'll be glad you did!!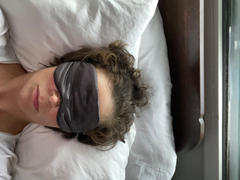 06/05/2020
Stacey G.
United States
Lovely
Clearly well made. Purchased for myself, but this would make a lovely gift for someone.
This was a life saver!
Purchasing this sleeping mask was one of the best decisions I've ever made!! I would wake up super early every morning from the sun because the shades in my room let in a lot of sunlight. I was always super annoyed because every morning it was really bright in my room and this sleeping mask has changed everything. It's super light and I even forget it's on my face at night when I'm sleeping. Super comfortable, soft, and worth it for getting a super relaxing and great night sleep! So much better than any other mask I've used in the past and would recommend to anyone who is looking for an amazing sleeping mask!
03/17/2020
Gauri F.
United States
If I didn't see it, I wouldn't believe it!
Great product!
03/09/2020
Faye B.
United States
So silky on my eyes
I debated on purchasing these… Thinking do I really need a Silk sleep mask? I've been debating for a couple of months… I only wish I had done it sooner it feels so nice Silk sleep mask? I've been debating for a couple of months… I only wish I had done it sooner it feels so nice
02/21/2020
Yvon G.
Canada
Sleep mask grey.
Perfect gift for my valentine.